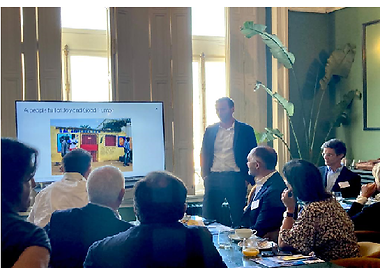 Ambassador Lennart Killander Larsson and CLS President, Jennifer Ekström opened the breakfast by giving a general overview of the history and current relationship between Sweden, Portugal, and Angola.
Swedish exports to Angola have increased remarkably in recent years and for many Swedish brands, Portugal has been the stepping stone to market access due to e.g., language, cultural, and geographical aspects. Ambassador Lennart Killander Larsson is fond of matching Angolan interests with Swedish offers in industries such as transport & infrastructure, telecommunication, and energy.
Moreover, we were delighted to have Emidio Santos from Ericsson and Tomás Jervell from Nors Group joining us on this occasion. They both shared best practices, experiences, and challenges from their respective expansions and furthermore operations in Angola. Our participants from various businesses and industries were able to ask questions and interact with our speakers and each other.