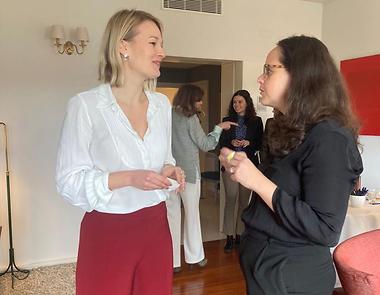 Third out was Sara Falcão Casaca, Associate Professor at ISEG, who spoke about her area of expertise: gender and the labour market, the gender pay gap, gender and decision-making, and gender and organisations, from a captivating historical perspective to the current status of equality rates in Portugal.

Last but not least we got some well-leveraged thoughts from entrepreneu Miia Ylihao, Co-founder of Kollektiv Kraft, who shared her intriguing experience of being a female Swedish Entrepreneur and a Co-Founder in Portugal and what learnings and challenges this as entailed.
All participants contributed with valuable insights and experiences, making the breakfast a true sharing of learnings and food for thought to bring with us in future dialouges with aim for intentional actions to strive for balance of equality in our everyday life and in the society we all act in.

CLS would like to thank everyone who came and shared their insights, making this an interesting, rewarding and inspirational breakfast together with us!