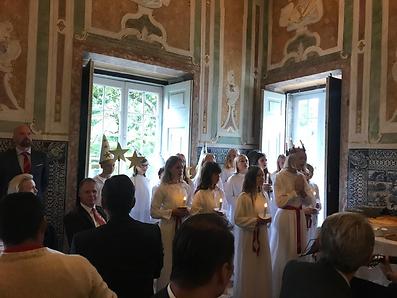 During the lunch, our new President of the Board of Directors, Jennifer Ekström, spoke about the year of the Chamber, and the Ambassador of Sweden to Portugal, Helena Pilsas Ahlin, shared with us the history of the Lucia tradition.
The Swedish School in Lisbon brought their children to sing for us in Swedish, English and Portuguese while wearing traditional Lucia costumes. We believe that all were impressed by the talent exhibited by these children!
This year's Julbord was a delight to organize, and so again, we thank all the participants for spreading Christmas cheer, and especially, we want to thank our Corporate Sponsors for their support.