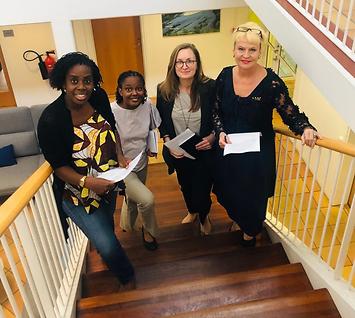 How could the Swedish-Portuguese Chamber of Commerce (the CLS) and its readers contribute to an increased awareness of the changes that Angola is going through?
I have already seen the strong possibilities of working with President Jennifer Ekström of the CLS in an incoming ICT telecom delegation. We are in the final preparation phases and they are coming in mid-February. There is a very natural link through the CLS in Portugal to Angola – the historic relations and the language but also the Swedish companies in Portugal, who are not yet represented in Angola or who cover Angola from Portugal, are very interesting for the Swedish Embassy in Luanda to reach out to. The synergies are obvious and I hope to work closely together with the Chamber in the coming years.
Where are the main opportunities for the Swedish industry 2020-2021?
Angola needs further development in ICT, telecom, they need better health care, they are eager to work on the waste management potential and environmental technology, in general, has strong potential, and of course transportation, vehicles, and equipment to the mining industry.
And, tell us more about the MoU signed between Angola and Sweden during 2019 – how can this support the increased collaboration in the development of the ICT sector between both countries?
Sweden was part of the development of Angola's first national strategy for ICT and Telecom development about 15-20 years back. During recent years, when the Angolan White Book in ICT was developed, Swedish and Angolan Ministries of IT and Telecom worked on a Memorandum of Understanding - cooperation in the field of Telecommunications and Information Technologies. The MoU developed and signed by both countries in 2019, serves as a base and platform to facilitate the business and bilateral trade between Angola and Sweden upon:
development of high-quality communications services,
the modernization of the communications networks,
the promotion and use of ICT as a tool for extending the offer of services to the communities and
exchange of information as well as best practice and capacity development
The Embassy of Sweden is also working with the Analyses of the Angolan ICT white book that was made by CLS President Jennifer Ekström, early 2019 and that now serves as a great document for the Swedish companies increased insights about the Angolan ICT market. This, together with the MoU are also the backgrounds to our upcoming delegation and I want to see more Swedish digital and ICT solutions being part of the continuous collaboration under the MoU with potential to establish on the Angolan market.
Finally, do you have any special words to the CLS community?
I look forward to very close cooperation between the Embassy of Sweden with the CLS in Portugal. I see a strong potential for creative energy leading to synergies and more trade with win-win results when merging our interests at the Embassy and the CLS's interest. I welcome contact and visits during the coming years!