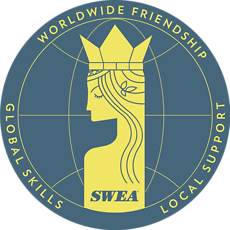 SWEA Portugal was founded in Lisbon in 1991 and with our 433 members we have become the largest SWEA chapter outside of Sweden. Next year we will turn 30 which of course will be celebrated, pandemic permitting, in grand. The three founding "mothers" are Gunilla Possenius and Ulla Rapazote both still very active members and Christina Nilsson who passed away in 2015.
During recent years SWEA Portugal has experienced an impressive growth, actually a tenfold increase in the past ten years. There is a wide spread in our members´ places of residence, but two main areas (Lisbon and surroundings and the Algarve coast) can be distinguished. In fact, more than half of the members live in the Algarve which has resulted in the founding of a SWEA chapter there as from January 1st, 2021.
In SWEA Portugal we invite all members to take part in a number of activities in many areas, be it sports, cultural events, excursions, travelling within Portugal, lectures on interesting topics, lunches or dinners. We play golf and bridge; visit roof-top-bars in Lisbon; hike the lovely hills of Sintra; get to know new friends and authors through our book clubs; rehearse our vocal cords in the SWEA choir; pick mushrooms with the chef at Pousada de Belmonte and (in a normal year) initiate the Christmas holidays with a well attended glögg-party together with our friends/partners/husbands. Thanks to the never-ending stream of ideas and suggestions from our members we can always enjoy new and exciting activities.
Any surplus from the association is destined for our donation. The recipient being SOS Childrens´ Villages Portugal to whom we donated 4000 EUR in 2019 and 6000 EUR in 2020. This enabled them to completely furnish a house in the SOS Childrens´ Village in Guarda. We are very enthusiastic about the decision to keep this as an ongoing project in the years to come.
According to SWEA´s statues, any woman can only sit on the board for a maximum of four years, 2020 is my final year. It has really been a rewarding time. Through the position on the board I have worked with many talented and creative ladies and through our members I have made new acquaintances and met so many interesting women. Now I retire from the board but I will continue with some tasks on regional and international level within SWEA and of course still be an active member of SWEA Portugal which as from January 2021 will return to its original name: SWEA Lissabon.
GET IN CONTACT WITH SWEA Portugal:
Av. Sanfré nº184, A,, 2º Dtº
2765-441 Monte Estoril, Portugal
https://portugal.swea.org/