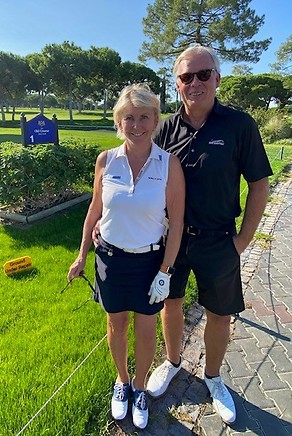 As individuals, we are both active people. We like to play golf, hike out in nature as well as in the city, visit restaurants, travel and visit new places in our new homeland. There is also a great interest in sports where golf, football, tennis and track and field stand out, and last spring we decided to join Benfica football club due to all of the Swedes who played in precisely Benfica.
Anders' career began in the IKEA Group and then moved on to Proffice as the Purchasing and Establishment Manager during Proffice's period of expansion. Anders started his first company in business relocation twenty years ago, and over the years, Anders' companies have been sold and new ideas have emerged and come to fruition, but all within interior design, IT/technology, remodelling and rental negotiations of new agreements on behalf of customer companies.
After the move to Portugal, Anders has continued to work as a tenant management consultant through his Portuguese company, Ostling Consulting, focusing on the Scandinavian market but with the goal of being able to offer his services in the local market in the future.

Eva's career has provided her with opportunities in both influencing and change management, and she began working early on with opinion-formation and communication. In the end of the 1960s when political discussions reached all the way into the classroom, interest in getting involved and participating and influencing developments emerged. So from the beginning of the 1970s until the middle of the 1990s, Eva had various political assignments in the City of Malmö. After this, during the happy 1980s, Eva started her first company in communications and events, which led to her becoming the Regional Manager of Proffice which was listed on the stock exchange at the time, followed by the Managing Director of Proffice in Denmark and later the Managing Director of Bemanningsföretagen (later Competence Agencies of Sweden) at Almega staffing companies, Regional Manager of the Confederation of Swedish Enterprise in southern Sweden and Managing Director of Visita/Swedish Hospitality Industry for eight years before going to Portugal.
Influencing and change work has been the common thread for Eva and specifically in the labour market, integration and infrastructure. Creating new alternatives and new opportunities is infinitely exciting, and to achieve results, one must find alliance partners.
A good example from the City of Malmö is a collaboration with restaurateurs who had an idea of turning the former bus square, Little Square, into a restaurant square. A completely inconceivable solution from the beginning, but then being able to implement that change as a responsible politician was a victory.
Another example, as Managing Director of Bemanningsföretagen, being involved in unifying the staffing industry through the creation of an authorisation for staffing companies in which the trade unions were involved, was an important step in making staffing companies accepted.
And more recently, Eva, as Managing Director of Visita, succeeded in politically pushing through what has been impossible for many years: a reduction in VAT on food in restaurants to the same level as food in shops. This has meant so much for so many companies, and it has simultaneously created a certain "fairness" within the VAT system, because the same goods have the same level of VAT. In addition, prices for restaurant guests became lower.
Various board assignments have lined Eva's path in parallel with professional life, within, for example, Dan Olofsson's Epsilon, Malmö University, Medicon Valley Alliance, Danske Bank in Malmö, Visit Sweden, Svensk Turism, UR (Educational Radio), Queen Victoria's Hotel and Rest Homes and others.

Back to their current life in Portugal, Eva has become Vice-President of SWEA Portugal, something she finds both an honour and so challenging. SWEA, a worldwide organisation for women with over 7,000 members, where membership provides a unique opportunity to create strong networks, access information and knowledge about both their new or smaller new homeland and also access a variety of activities.
As Vice-President of SWEA, I would like to welcome you, who may not yet be members, and looking forward to meeting you at one of SWEA's activities!
/Eva Östling
Vice-President SWEA Lisbon