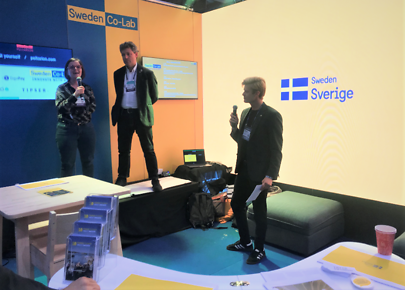 The Sweden Co-Lab was created in collaboration between Business Sweden, the Swedish-Portuguese Chamber of Commerce and the Embassy of Sweden in Lisbon. Sweden Co-Lab was the meeting point for Swedish exhibitors and companies to lift Swedish innovation, promote Swedish interests, and discuss international collaborations between local ecosystems.
The Sweden Co-Lab was inaugurated on November 5 by Ambassador of Sweden to Portugal, Helena Pilsas Ahlin, and Business Sweden Director Global Business Development Program, SME & Going Global Initiative, Helen Rönnholm. There were about 30 Swedish startups connected to Sweden Co-Lab, and some 20 companies, organizations and partners, operating in areas such as fashion, blockchain, AI, E-commerce, machine learning, and more.
During the Web Summit days, Sweden Co-Lab gave Swedish startups the opportunity to present their business to potential partners. A number of panels, e.g. one with representatives from the cities of Stockholm, Lisbon, Gothenburg, and Porto, who discussed the opportunities for startups in the various cities and how to strengthen collaboration between the cities. The Secretary-General of the Chamber, Niklas Knutsson moderated a debate on how to connect eco-systems, with panelists from Business Region Gothenburg and Invest Sofia (see image). In conjunction with Web Summit, the Swedish-Portuguese Chamber of Commerce and the Embassy of Sweden In Lisbon organized evening events with networking among startups, global companies and government. These events gathered over 150 people from all over the world, representing a variety of fields, and providing an excellent opportunity to connect.
From the companies who participated in the Sweden Co-Lab, we have received feedback that they have made good use of the platform provided and that it led to several deals and important meetings with clients.
We encourage all our members to join us next year again when we will enter the scene of Web Summit!
A big thank you to all participants and to our partners in creating the Sweden Co-Lab, Business Sweden and the Embassy of Sweden. We are looking forward to doing this with you next year again!