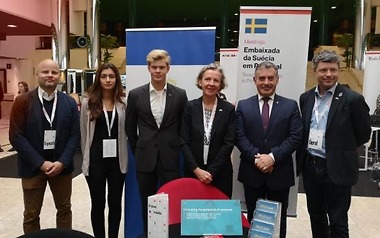 CLS visited Bizfeira on October 17th, which was our second year represented at the fair. We were invited by Mayor Emídio Sousa to participate together with the Embassy of Sweden, and Business Region Gothenburg as the Municipality is interested in strengthening the economic ties between Sweden and the district of Santa Maria da Feira.
Our Secretary-General, Niklas Knutsson, and Area & Investment Manager ICT, Erik Behm from Business Region Gothenburg held various meetings with firms from the local tech company network AETICE. The aim of the meetings were to encourage ways for local firms in Santa Maria da Feira to cater towards supplying Swedish firms as the first step in deepening trade and economic relations.
The Swedish cleantech financing company, Bright Sunday, joined us during the fair and were able to host meetings with local producers, discussing how to make the industry in the region more greener and more cost-efficient by installing solar power through Brigh Sunday finance.
From the Embassy, Ambassador of Sweden to Portugal, Helena Pilsas Ahlin strengthened the Swedish connection to local political representation through meetings with Mayor Sousa where they could discuss the economic and political ambitions of the Municipality.
Next step will be to follow up on the meetings that were held in order to find opportunities for how the exchange between Swedish and Portuguese business can strengthen the competivess and ambition of Santa Maria da Feira.