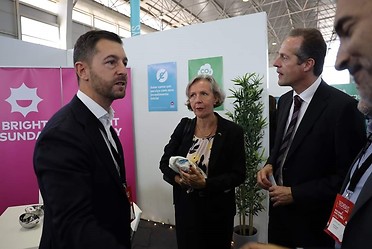 - During 2019 we have really proved our business case in Portugal. We have secured contracts with companies within a very wide variety of businesses. Football clubs as well as winemakers, fashion manufacturers, hotels and the food industry are all on our client list, with many more to come during this and next year, says Niklas Engström, CEO of Bright Sunday.
Bright Sunday provides easy finance solutions for companies that want to secure sustainable energy from their own solar panels and energy-saving cleantech such as LED lights. Thereby lowering their energy cost, typically by as much as 20-30 percent.
Bright Sunday provides companies with their own solar panels and energy-saving solutions with no upfront cost. The lower energy costs and reduced climate footprint will give many companies a much needed competitive edge. This is a crucial development for the many exporting manufacturing companies in Portugal.

– The fact that we chose Portugal as our launch market was actually due to the fact that there are so many exporting manufacturing companies here. And quite a few of them are delivering to major Swedish companies with rapidly increasing demands on supply chain sustainability. Our solution will help Portuguese companies stay on top of their game.
– Technology is important to drive sustainability, but the truth is that you need very large amounts of capital as well as a feasible financing solution in order to drive change in a significant way. This is especially true for markets facing tough financial challenges, such as Portugal and Spain.
By securing capital from Sweden and other parts of the world to make the necessary investments here, Bright Sunday as a company is contributing in a meaningful way to minimize CO2 emissions and thereby climate change.