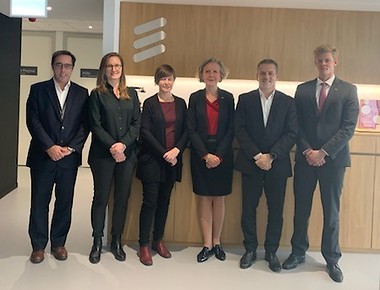 The Embassy of Sweden in Lisbon and CLS were invited on December 10th, to visit the new facilities of Ericsson Portugal in Parque das Nações. At the facilities, Luis Silva, Chief Executive Officer of Ericsson Portugal and Pedro Gonçalves, Director Customer Unit gave us a hands-on presentation on Ericsson presence and impact in Portugal. We also got a taste for the new digital economy which will be possible with the 5G shift brought forward through the technology of Ericsson.
Ericsson is one of the largest Swedish companies in Portugal, employing over 250 people and they have been present on the Portuguese market since 1953. Since the launch of the first GSM communication network (1G) in the '80s, Ericsson has been at the at the technological forefront, bringing Portugal 2G, 3G, 4G and is now taking Portugal into the digital era by launching their 5G network.
5G is the next evolution of mobile wireless technology. It is a game changer that will bring high speed, low latency and reliable connectivity, enabling a new generation of applications, products and services. The dramatic impact that this new high-speed network will have on industry has the potential to transform the way we live and work as well as kick-start a fourth industrial revolution.

Due to the transformative impact of this technology on industry, it is crucial to enable it as soon as possible. Ericsson already has 22 5G networks operating worldwide and they are now working together with Altice Portugal to make the City of Aveiro the first 5G city in Portugal. In Averio, 5G has already been tested for optimizing and improving coordination for emergency services, possibly leading to better service and saved lives. Because of its revolutionary potential, we are happy to see that Ericsson is the global leader in 5G IPRs when comparable segments are analysed (see image from Bird & Bird below).
We are excited to have had an afternoon filled with new insights and impressions of how Ericsson is being a global leader in 5G development. Now, we are looking forward for them to support Portugal forward to new hights of connectivity!