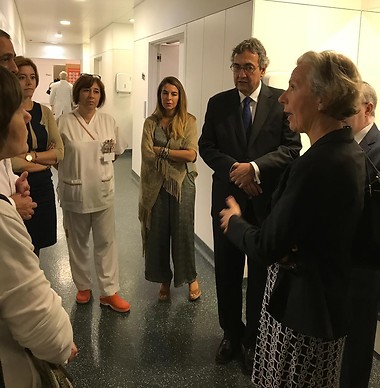 Diaverum´s mission is to provide life-enhancing renal care for CKD (Chronic Kidney Disease) patients through implementing advanced standards of care.
Diaverum is one of the largest Swedish companies in Portugal and present on the Portuguese market since 2007 where it is currently responsible for 26 clinics and treating more than 3000 patients.
Diaverum Portugal has more than 1200 employees in the country, most doctors and nurses.
The Embassy of Sweden and CLS were invited on October 2nd, to visit the Diaverum clinic in Estoril to get a hands-on presentation on Diaverum care model focusing on the Patient Care Coordination program.
At the clinic, César Silva, Managing Director of Diaverum Portugal and Fernando Macário, Chief Medical Officer, welcomed us to present the improvements in renal care and we discussed new initiatives within social responsibility with Communications and CSR Director Marta Olim.
It was a morning full of new insights and impressions of how Diaverum is being a global leader in integrated care.